The Museum as Mangrove: How Brigada Puerta de Tierra is Fighting the Gentrification of San Juan

.



Members of Brigada Puerta and Storefront staff at the ribbon cutting ceremony to inaugurate the Museum of History and Community of Puerta de Tierra, 2019. Courtesy: Storefront for Art and Architecture; photograph: Hatnim Lee

At the Storefront for Art and Architecture, a pop-up Puerto Rican museum employs culture as a means of resistance


frieze.com
BY CARINA DEL VALLE SCHORSKE
11 JUL 2019

El Museo del Barrio did not begin as a grand institution on Fifth Avenue, but as a wave of protest from frustrated parents in East Harlem. They were tired of the local public school failing to engage the cultural history of the neighbourhood and the Puerto Rican people living in it. Between the summer of 1969 and the summer of 1970, this activist collective cohered around the concept of a local museum that would showcase Puerto Rican culture, cultivate its survival and dissemination, and serve as an educational hub, first opening its doors to the public at PS 206 with an exhibition on 'The Art of Needlework'. It's El Museo's 50th anniversary this year, and their celebratory exhibition – which deserves its own review – attempts to grapple with recent critiques over how the museum has decentred Puerto Rican and Latinx working-class and community-based work in favour of elite Latin American artists and curators more palatable to white donors.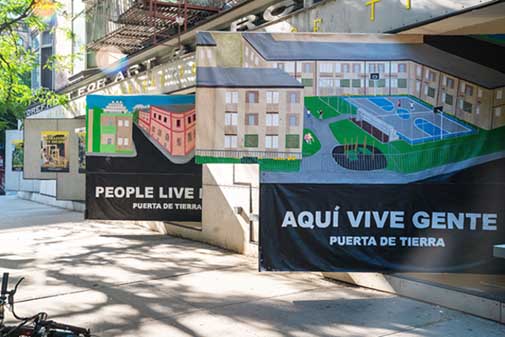 Margarita Ramos, murals, 'Aquí vive gente', 2019, exhibition view. Courtesy: Storefront for Art and Architecture; photograph: David 'Dee' Delgado
It's impossible to put this history out of my mind as I head downtown to see another Puerto Rican pop-up museum, the Museo de Historia y Comunidad de Puerta de Tierra (Museum of History and Community of Puerta de Tierra), which has found temporary shelter in SoHo's Storefront for Art and Architecture between June and September. With the title 'Aquí vive gente / People Live Here', the presentation is also the result of intergenerational community action – this time not by Nuyoricans, but by island Puerto Ricans.

Brigada Puerta de Tierra formed several years ago as a collective devoted to protecting one of San Juan's oldest neighbourhoods from encroaching touristic development. As part of this fight, the residents' Brigada, or brigade, filed a petition with the Puerto Rican government for the legal right to reclaim an abandoned department store in Puerta de Tierra as the permanent home for a museum of local history and culture, to serve as a bulwark against redevelopment and source of civic pride. Mexican curator José Esparza Chong Cuy, a friend of the Puerto Rican artist Jesús 'Bubu' Negrón and the Storefront's newly appointed director, invited the collective to launch the museum's program in SoHo. 'Curator' fails to capture the nature of transamerican collaboration and improvisational problem solving at work here; Nueva York is a blinking light on a diasporic circuit shorted by the state's refusal.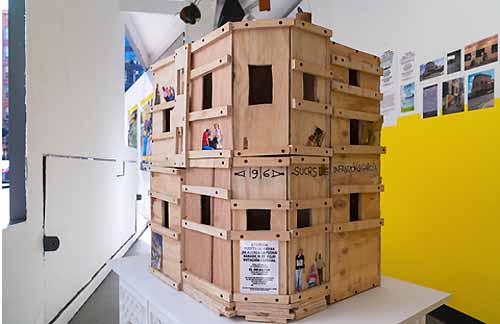 José 'Pichual' Vélez, informal model of the Infanzón Building, 'Aquí vive gente', 2019, exhibition view. Courtesy: Storefront for Art and Architecture; photograph: David 'Dee' Delgado
The department store, La Infanzón, exists in miniature inside Storefront: a model of the pink art deco corner building lovingly constructed from memory by José 'Pichual' Vélez. But its presence also haunts, as the open doors of the gallery cast stripes of light and shadow across the floor, a humid breeze spins the vejigante mask hanging from the ceiling and the salsa pitched low on the speakers is interrupted by the music of ice cream trucks and a verse or two of Bad Bunny spilling from the open windows of passing cars. The museum's collection – family photographs, vinyl records, the bow ties of José 'Joe' Quijano's band – did not arrive in curatorial crates but in the overstuffed suitcases of Brigada members, mano a mano. I'm reminded of how many homes migrants have made this way, with a few portable objects, a soundtrack and the insistent repetition of tales from elsewhere.

The exhibition's title, 'Aquí vive gente / People Live Here', pays tribute to and reproduces the public murals in Puerta de Tierra, asserting the autonomous life of the neighbourhood, in opposition to the urban blight developers choose to see in order to justify their program of displacement and demolition. The stark simplicity of the statement has the rhetorical charge of 'Black Lives Matter': it exposes the impulse to deny these claims as not only anti-human but also plainly anti-real. Of course, the new context for the phrase draws attention to the fact that people don't live here, at the Storefront for Art and Architecture, nor in this part of SoHo much anymore, where the gallery elbows for space between a Sweetgreen and several upscale restaurants where French tourists drink white wine with bags from Aritzia and J.Crew tangled at their feet. This is not Puerta de Tierra or even East Harlem, but a symbolic space for artistic discourse in one of Manhattan's commercial centres that is fast acquiring the energy of a vertically oriented suburban strip mall.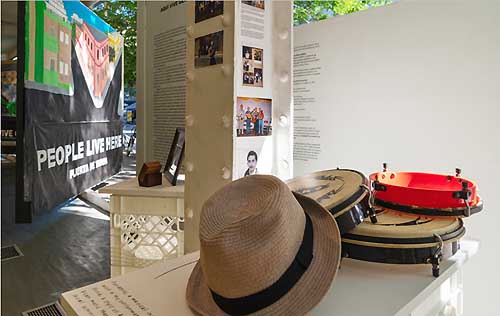 Objects from Puerta de Tierra, 'Aquí vive gente', 2019, exhibition view. Courtesy: Storefront for Art and Architecture; photograph: David 'Dee' Delgado
New York is an embattled site for Puerto Ricans: at once a homeland in translation, a hotbed of racism and a strategic point from which to build popular power and organize for sovereignty. The Brigada hopes to enter the fray through this third door. They opened the museum at the Storefront with the institutional gesture of a ribbon cutting, performing here what cannot yet be accomplished there.

A key component of the Brigada's mission has to do with reclaiming physical space, but given the precarity of this campaign, I'm not surprised that much of the museum's richest work – the oral history of painter Bibiana Hernández Suárez, the digital archive of Johnny Torres, the mobile murals that adorn the Storefront doors – can travel light. This archive has been designed to survive what the Brigada describes as Puerta de Tierra's 'irretrievable' extinction. Such aesthetic adaptations are not new. Even the pink cherub-festooned altar reproduced from the neighbourhood's famous Fiestas de Cruz is crafted to sail the slow river on a parade float. The museum opened the weekend before New York's Puerto Rican Day Parade, and members of the Brigada came through to carry the mobile murals as banners in the iconic celebration, itself an invocation of the island's local street fairs.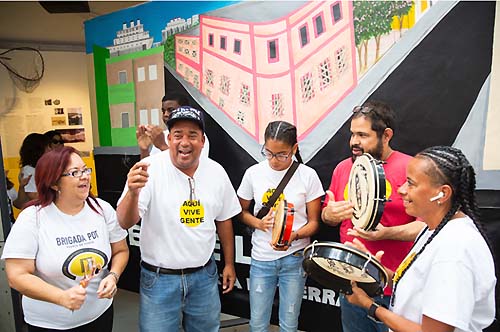 Members of Brigada Puerta de Tierra during the opening of 'Aquí vive gente', 2019. Courtesy: Storefront for Art and Architecture; photograph: Hatnim Lee
The movement of Puerto Ricans between here and there – el vaivén – is often framed as a privilege, since Puerto Ricans don't have to worry about deportation. But the presence of the Brigada in New York is also a symptom of the displacements that define our diaspora, how our 'freedom' to move often enables governments and businesses to shuttle us away from the beach or across the sea, from one FEMA hotel to another. Puerta de Tierra began as a kind of exile community, the first neighbourhood in San Juan established outside the walled colonial city, where formerly enslaved people and peasants fleeing the cane fields struggled to make a home in the muck of the mangroves. In 'Learning to Live in Miami' (2014), Cuban-American scholar Alexandra T. Vazquez proposes we look to the mangroves for inspiration: 'they filter the flotsam of the continents, they must thrive in spite of their littering…mangroves must form some kind of adaptable relationship to whatever comes their way.' The Brigada – a community formed by the memory of mangroves – likewise inspires a vision of the local museum as a global creative ecosystem able to stem the rising tide of corporate development that threatens to drown us all.

'Museo de Historia y Comunidad de Puerta de Tierra' (Museum of History and Community of Puerta de Tierra) resides at the Storefront for Art and Architecture, New York, until 7 September 2019.


CARINA DEL VALLE SCHORSKE
Carina del Valle Schorske is a writer and translator living between San Juan and New York City, where she is at work on her first book of creative nonfiction, tentatively titled The Other Island (forthcoming from Riverhead).

---