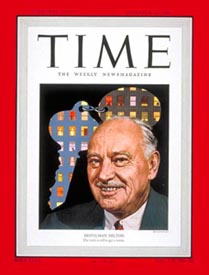 Conrad Nicholson Hilton

"An Intelligent Deal"

Monday, Jan. 6, 1947
From the Magazine | Business

Last month, fast-stepping hotelman Conrad Hilton was buttonholed by the Puerto Rico Development Co., a government-backed organization. The Puerto Ricans wanted Connie Hilton to run a new beach hotel in tropical San Juan. Hilton was flattered, but wanted "an intelligent deal." Last week he had it.

The deal calls for the Development Co. to spend about $3 million building and furnishing a lavish ten-story, 300-room hotel, all air-conditioned. When it opens (tentative date: mid-1948), Hilton will take over. All he has to put up is enough cash to buy linen, dishes, pay and train the staff, cover operating expenses. In return, he will get one-third of the profits. Hilton will stand any losses, but nobody expects any. Puerto Rico is already short of hotel rooms, hopes soon to be doing a booming tourist business

With the signing of this deal, Connie Hilton wound up a year-end whirl which had added Nos. 13, 14 and 15 to his $80,000,000 chain.
The Key Man

Monday, Dec. 12, 1949
From the Magazine TIME

Opening this week of Puerto Rico's finest hotel

Puerto Rico's historic capital of San Juan busily prepared for a fiesta. At Governor Muñoz Marin's mansion, servants made ready for a party, washing the fine crystal, putting a high polish on the silverware. On traffic-jammed Ponce de León Avenue stood a huge welcome sign: Bienvenidos. In the plaza, the excited chatter was all about the opening this week of Puerto Rico's finest hotel, which islanders hope will be a rich new source of revenue and prestige for their economy.

The new, ten-story Caribe Hilton stood dazzling and white on a peninsula, amid a garden of yellow hibiscus trees, breadfruit, almonds and tall waving palms. On one side of the hotel were the coral beach and the long rolling waves of the Caribbean; on the other, old San Geronimo Castle, a blue bay, pink and white houses and, in the distance, mountains.

Inside, the finishing touches had been made. Artists had just put the last bright reds and yellows to the 25-ft. mural showing a Puerto Rican feast-day celebration; roulette wheels, chemin de fer and dice tables had been moved into the casino. The blue-tiled swimming pool cut out of the coral rock and the bright yellow-awninged beach cabanas were all ready for the first guests.

The Right Note. The planeloads of guests for the opening would include Actress Alexis Smith, oldtime Star Gloria Swanson, Eastern Air Lines President Eddie Rickenbacker, R. H. Macy's Beardsley Ruml, David Rockefeller and Julius ("Cap") Krug. But none of the party-goers would enjoy the round of banquets, swimming parties and tennis tournaments as much as their party-loving, party-giving host, Conrad Nicholson Hilton, the world's No. 1 hotelman, who this week was getting his first excited look at his newest hotel.

When the Puerto Rico Industrial Development Co. decided to build the Caribe, it sent out letters to seven U.S. hotel owners asking them if they were interested in coming to Puerto Rico. Only Connie Hilton had the graciousness to start off his reply in Spanish: "Mi estimado amigo." His esteemed friends in Puerto Rico were so overwhelmed by this friendly tone—and by the Hilton name—that they decided to build the $6,500,000 hotel for Connie Hilton. The deal is a friendly one.

Hilton will pay for his investment with two-thirds of his yearly profits. The rest of what he makes, an estimated $300,000 a year, will belong to Hilton tax free.

World's Biggest. It was by equally shrewd deals that Connie Hilton had become the world's biggest hotelman. His 13 hotels in the U.S., Mexico and Puerto Rico—ranging from a small hotel in Lubbock, Texas to Manhattan's famed Waldorf-Astoria—have an estimated worth of $125 million and a replacement value of $175 million. He employs 11,250 people, and likes to boast that in his 12,500 rooms he "could sleep in a different bed every night for 40 years."


---